We meet every Tuesday evening, weather dependent, at 4.00 p.m. for a supervised and friendly round of golf where Juniors get the chance to play with other Juniors of similar ages and there is the facility for supper to be provided following this.
Current Membership rates:-
Juniors aged 12 or under on 1st January 2018 £15
Juniors under 16 years on 1st January 2018  £65
Juniors under 18 years on 1st January 2018  £100
Juniors under 21 (under 25 if in full-time education) £120
Juniors at the club receive a free 1 hour group coaching session with a qualified professional each month.
Most weeks we have competitions within the session where Juniors compete for monthly medals and special trophies.  On weeks where we do not have a specific competition, we offer small prizes for the Juniors to play for.
We also have a Junior team in which the keener members have the opportunity to play in singles and doubles matches against other clubs and have the chance to play at other courses.
Annually we have a Junior Captain's evening and also a Ladies' Captain's and President's evening held for the Juniors.
As well as the above competitions, we have a presentation evening and a Junior Dinner along with many more activities arranged throughout the year.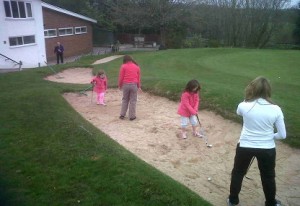 Tuition