We meet every Tuesday evening, weather dependent, at 4.00 p.m. for a supervised and friendly round of golf where Juniors get the chance to play with other Juniors of similar ages and there is the facility for supper to be provided following this.
Most weeks we have competitions within the session where Juniors compete for monthly medals and special trophies.  On weeks where we do not have a specific competition, we offer small prizes for the Juniors to play for.
We also have a Junior team in which the keener members have the opportunity to play in singles and doubles matches against other clubs and have the chance to play at other courses.
Annually we have a Junior Captain's evening and also a Ladies' Captain's and President's evening held for the Juniors.
As well as the above competitions, we have a presentation evening and a Junior Dinner along with many more activities arranged throughout the year.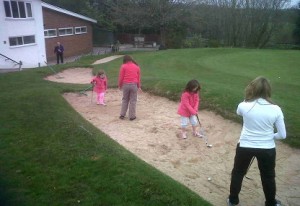 Tuition